Todd Biederman, FACHE – President and CEO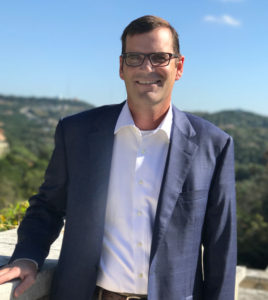 Todd brings over 25 years of health care experience to NewLight Healthcare. As President and CEO of NewLight, Todd has created an organization founded on the principal of being of service to the hospitals and communities we serve.
Todd has led the successful turnaround of multiple rural and small community hospitals over the last ten years. He began his career with the Presbyterian Healthcare System in Dallas, Texas as a hospital administrator and has extensive experience in the development and opening of health care facilities.
In 1990 he helped lead the planning and development of a new hospital and medical office building in Plano, Texas. Since then, he has developed over 50 medical facilities, including hospitals, medical office buildings, ambulatory surgery centers, cancer treatment centers, and dialysis centers. In addition, he has extensive experience in medical staff relations, physician recruitment, and retention.
Todd is a Fellow in the American College of Healthcare Executives. In 2008, he was selected to the National Rural Health Association's Rural Health Fellows Program, which is a year-long, intensive program aimed at developing leaders who can articulate a clear and compelling vision for rural America.  He is also a founding Board Member of the National Council on Culture and Leadership. He was recently asked to sit on Executive Panel during their annual conference in San Diego, CA., along with four other senior executives including the commander of the US Navy Seal School.
Todd has a history of giving back to the communities he serves. He has volunteered for the United Way, Capitol Area Food Bank, Caritas and Habitat for Humanity. Todd is an Eagle Scout and has led Medical Explorer Posts for the Boy Scouts of America.
He earned a Bachelor of Science in Computer Information Systems, as well as a Master's Degree in Healthcare Administration, from Trinity University in San Antonio, Texas.