Ray Mason – Senior Healthcare Administrator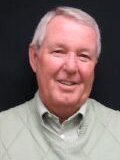 Ray Mason embodies the values of NewLight Healthcare and brings a positive energy that is key to rural hospital transformations. He has over 32 years of healthcare administration experience and is passionate about helping rural hospitals.  He has been an Interim CEO at five hospitals representing NewLight Healthcare.
Ray and his wife reside in Muleshoe, Texas. He has three children and three grand children. Ray enjoys playing golf, fishing, and traveling with his wife. They are also members of the First United Methodist Church in Muleshoe, Texas.